This Year's Harvest Appeal - St Martin's Food Bank
ear, as well as supporting the Boulevard Breakfast Club, we're also supporting St Martin's Food Bank. Watch this video to find out what they're doing to serve the people of west Hull, and how you can help.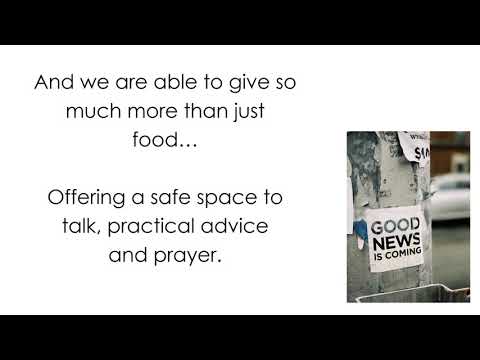 Sunday 29th August
Once again apologies for the lack of a video due to technical problems. Hopefully normal service will be resumed next week. In the meantime, here's a transcript of last Sunday's sermon.
_______________________________________________________
This is the last in our series in Psalms that we called, Learning to sing again.
It's come at exactly the right time, hasn't it!
The first week, in Psalm 90, was the last week we weren't permitted to sing and that Psalm encouraged us to get our hearts right before God in preparation to sing.
If you were here you might remember that it was a Psalm written mainly by Moses in response to the people's sin that had led God to send them into the wilderness.
God was teaching them to see themselves rightly before him.
To number their days and so gain a heart of wisdom.
Then the Psalm had been repurposed for the Israelites 500 years later after they were taken into captivity away from the Land God had given them …
… because of their sin.
It was for them a Psalm that prepared their hearts to sing again.
And so it was for us too after we'd been in a kind of mini-exile either away from church or at church but unable to sing.
_ _ _ _
Then Psalms 91-95 really got us singing, didn't they?
Psalm 91:9 and 10:
If you say, 'The Lord is my refuge,'
    and you make the Most High your dwelling,
10 no harm will overtake you,
    no disaster will come near your tent.
A wonderful thing to say or sing!
Psalm 92:1
It is good to praise the Lord
    and make music to your name, O Most High,
And then the glorious opening to last week's Psalm:
Come, let us sing for joy to the Lord;
    let us shout aloud to the Rock of our salvation.
2 Let us come before him with thanksgiving
    and extol him with music and song.
These Psalms have helped us to learn to sing again.
_ _ _
In this week's Psalm, Psalm 96 if you've closed you Bible, God is going to tell us what to sing, who should be singing, and why it should be sung.
Our headings for today will hopefully guide us through the Psalm and help us to remember God's purpose for us through it.
Here they are:
1.                  Sing praises to God
2.                  Make him known
And finally,
3.                  Sing praises to God, all the earth
And hopefully if we return to this Psalm over the weeks and months ahead, it'll keep us on track as we continue to sing.
_ _ _
So, first of all Sing joyful praises to God
I want us to really 'feel' this Psalm.
Psalms aren't like Paul's letters.
One of Paul's letters will mostly aim for our brains and get us thinking hard in order to change our hearts.
Psalms, though, aim directly at the emotions.
We're supposed to feel them.
And then the emotions they've stirred in us will, by the power of the Holy Spirit, shape our thinking about God, the world and ourselves.
And this Psalm commands us to sing in order to drive home in our hearts what it teaches.
_
There's something about singing, isn't there, that really drills deep down inside us.
It's not just Psalms that get to our emotions, though.
We're somehow wired to respond to song in a way that we don't respond to anything else.
_
I was listening to the radio the other day and Ed Sheeran's new song came on.
It's written as an imaginary conversation with a good friend who died early last year before he got to meet Ed's baby daughter.
It's called Visiting Hours.
Now, Ed Sheeran doesn't pretend to be a theologian of any kind and I don't think he professes to be a Christian so what he says about heaven here isn't to be understood in anyway as fact.
But listen to the words and feel how they aim for the heart by expressing in picture language our shared feeling of loss and grief when someone close to us dies.
I wish that heaven had visiting hours
So I could just show up and bring the news
That she's getting older and I wish that you'd met her
The things that she'll learn from me
I got them all from you
Can I just stay a while and we'll put all the world to rights?
The little ones will grow, and I'll still drink your favourite wine
And soon they're goin' to close, but I'll see you another day
So much has changed since you've been away
I wish that heaven had visiting hours
And I would ask them if I could take you home
But I know what they'd say, that it's for the best
So I would live life the way you taught me
And make it on my own.
I'm not ashamed to say that I wept when I first heard it because it brings back emotions that I've felt and still do feel.
Through the deaths of loved ones and from good friendships lost through circumstance.
Songs can take you to places that other ways of communicating just can't.
_
So, now I've taken you right down into the sadness of Ed Sheeran, how does this Psalm shoot for the heart with streamers of joy?
Well, look with me at the language the Psalmist uses.
The first command is there in v1.
Sing!
Sing to the LORD a new song.
Why a new song?
Because this Psalm, being in Book IV of the Psalter, is written to a people who've experienced the loss of their homeland.
They're grieving.
These are the people who sat down by the rivers of Babylon, and there they wept.
But here – sing a new song!
A song to a different beat.
To usher in a new chapter.
Verse 2:
Sing to the Lord, praise his name
And then those adjectives and the verbs peppering the poetry:
v3 Marvellous
v4 Great
v11 Rejoice, glad, resound
v12 Jubilant, joy
_
This is a song of joyful praise, isn't it!
It sweeps us up into its upbeat, uplifting, happy song.
_ _ _
I think many of us love singing.
We love singing together in church.
And it's appropriate to get caught up in the emotion of it.
This Psalm, like many of them, is intentionally emotional.
But, if we left things there – just on the emotional level – then why would singing in church be particularly different from singing at as football match or in a choir?
So the content of what we sing is important too.
And that takes us onto our second heading …
______________________________________________
Sing praises to God
And through them, Make him known.
Our praising God is emotional, but they're emotions rooted in facts about him and relationship with him and then expressed out loud.
Verses 1 and 2 – sing.
Verse 2 – proclaim.
Verse 3 – declare.
And verse 10 – say.
This is praising God that's verbally expressed and then mind-focussing.
There's lots about being mindful at the moment isn't there.
The mindfulness movement is big.
Some of that is helpful, but some is more to do with emptying your mind of everything and concentrating on yourself.
Well, this Psalm concentrates our minds in the right place on three big truths about God that, when we feel them, get us praising him.
The first is there at the beginning:
1  Sing to the Lord a new song;
    sing to the Lord, all the earth.
2 Sing to the Lord, praise his name;
    proclaim his salvation day after day
God is the one who has saved his people.
If we're believing Christians trusting in Jesus then we can praise God for the salvation from God's wrath that Jesus won for us on the cross.
That's a great thing to praise God for, isn't it, because at his own great expense Jesus has rescued us from sin and its consequences of eternal separation from God.
And that's cost us nothing.
Praise God and proclaim – speak and sing out loud of his salvation!
_ _ _ _
The second thing the Psalm gets us praising God for is his greatness.
His marvellous deeds in v3.
He's the creator, the rescuer, the one who holds the universe together.
He's worked marvellous deeds in history.
How important was it for the Israelites in exile to look back on God's track record of working marvellous deeds time and time again for his people.
They needed him to work again like he did when he rescued his people from slavery in Egypt.
And he would.
After this Psalm had been written God miraculously rescued his people from Babylon.
Then there was of course the most marvellous deed of them all – Jesus' death and resurrection.
And we can look back on all those and praise God for them.
No wonder the Psalmist reminds us that God is greater than all other so-called gods.
_ _ _
The third big reason to praise God in there at the end of the Psalm:
13 Let all creation rejoice before the Lord, for he comes,
    he comes to judge the earth.
He will judge the world in righteousness
    and the peoples in his faithfulness.
It's good news that God will one day judge the earth in righteousness and faithfulness.
Good news because otherwise there would be no real, final justice.
The Israelites were in captivity in Babylon, being treated mainly more or less like slaves.
In fact, black slaves in America thought of themselves as in a similar position to the Israelites in captivity.
By the Rivers of Babylon.
And think of Afghanistan today – will those who commit atrocities ever face justice?
Perhaps not in this lifetime.
But God will judge all peoples in his faithfulness.
They, like everyone, will have to face their maker and give account of how they lived their lives.
And justice will be done.
Only those – and all those – who have repented of their sin and put their trust in Jesus will avoid God's righteous anger …
… because when they stand before God Jesus will say that he has already paid their penalty.
Justice will be done, and done fairly – with equity, v10.
So praise God!
_ _ _
Now, did you notice where we're instructed to make God known?
Yes, we sing in church.
But our praise of him is to be public.
Among the nations and peoples, verse 3.
This is a public declaration about God.
A public praising – telling forth – of him.
And that leads us onto our third heading.
___________________________________________
Sing praises to God, make him known.
And then, Sing praises to God, all the earth.
_
The command to praise God isn't just for Christians in churches, or even Christians taking the gospel out – although it most certainly is for us.
But it's also for the whole world.
Everyone everywhere is commanded to praise God.
So this Psalm isn't just about God's people learning to sing again.
It's also about the whole of creation getting caught up in praising our maker.
_
You see, the nations – for us that's non-believers – put their hope in all sorts of things.
In Bible times that was very often false gods, and it often can be those today.
Any so-called god that isn't the triune God of the Bible – God the Father, the Son and the Holy Spirit – is a false god.
And plenty of people around the world and in this country put their hope in false gods and this Psalm compares them as useless when put alongside the one true God.
_
But many people put their hope in all sorts of other things too, don't they.
Things hat otherwise are probably good but just can't carry our hopes.
Things like money, family, healthcare, relationships, education, reputation and so on.
And everyone everywhere is called to turn away from putting hope in these things and put their hope in God alone.
Verse 5
For all the gods of the nations are idols,
    but the Lord made the heavens.
It might be that you're here looking in on Christian things and that you've never heard God described like this before.
If that's you then please know you're very welcome to be here among us and I'd love to catch you afterward.
But do you hear the call?
7 Ascribe to the , all you families of nations,
    ascribe to the glory and strength.
8 Ascribe to the the glory due to his name;
    bring an offering and come into courts.
9 Worship the in the splendour of holiness;
    tremble before , all the earth.
All people are called to worship God.
Imagine the Israelites in captivity singing this Psalm with the Babylonians listening in.
Yes, even they were called to worship God and even they could be=ring an offering – their lives – to him and become his people.
Do you hear the call.
_ _ _
And remarkably it's not just people who are called to prise God in this Psalm.
It's all of creation.
The heavens are to rejoice.
The earth be glad.
The sea and the fields and everything they contain, even the trees, are called to make a joyful noise to the Lord.
Because he's come to save his people, and he will come back – Jesus will one day return – to bring about the final restoration of all things.
Justice will be done.
Sin and rebellion against God will be banished.
The warping of all things good will be over.
Creation will be remade so that everything will be as it should be.
_
The apostle Paul picks up on this in Romans 8 (p1135):
18 I consider that our present sufferings are not worth comparing with the glory that will be revealed in us. 19 For the creation waits in eager expectation for the children of God to be revealed. 20 For the creation was subjected to frustration, not by its own choice, but by the will of the one who subjected it, in hope 21 that[h] the creation itself will be liberated from its bondage to decay and brought into the freedom and glory of the children of God.
__________________________________________
So, as we draw to a close, you may be feeling a bit like Ed Sheeran – perhaps you're all too aware of loss at the moment.
But I hope that we've begun to learn to sing again, sing praises to our glorious, kind, powerful, rescuing God …
… Our God wo is like no other
… who is alone the rescuer
… who alone will bring about true justice
… and who alone is worthy of the praise of all creation.
_ _ _ _
Let's pray.
Sunday 22md August
Unfortunately the video camera switched itself off during the service on Sunday and so we don't have a recording of Brian's sermon. However, he's kindly provided us with a transcript.
______________________________________________________________
Psalm 95:1-11 (NIV)
1 Come, let us sing for joy to the Lord;
    let us shout aloud to the Rock of our salvation.
2 Let us come before him with thanksgiving
    and extol him with music and song.
3 For the Lord is the great God,
    the great King above all gods.
4 In his hand are the depths of the earth,
    and the mountain peaks belong to him.
5 The sea is his, for he made it,
    and his hands formed the dry land.
6 Come, let us bow down in worship,
    let us kneel before the Lord our Maker;
7 for he is our God
    and we are the people of his pasture,
    the flock under his care.
Today, if only you would hear his voice,
8 'Do not harden your hearts as you did at Meribah,[a]
    as you did that day at Massah[b] in the wilderness,
9 where your ancestors tested me;
    they tried me, though they had seen what I did.
10 For forty years I was angry with that generation;
    I said, "They are a people whose hearts go astray,
    and they have not known my ways."
11 So I declared on oath in my anger,
    "They shall never enter my rest."'
________________________________________________________
This is a Psalm of two halves :
 in vv 1-7 it is a call to come and worship this great, mighty, powerful creator God and king, the God of salvation;
 and in vv 8-11 the Psalmist says that in the light of all that is true of this Great God, we are not to harden our heart in unbelief if we hear His voice.
[Vv 1-7: a call to worship]
So, let us first consider vv 1-2, a call to come and worship and to sing for joy to the LORD.
Come, let us sing for joy to the Lord;
    let us shout aloud to the Rock of our salvation.
You can feel the warmth and the genuine love and the reverence for God which the Psalmist has as he delights in his God
He sings for joy as he remembers all that is true of God.
So, we ask: well, what is true of God that makes him sing and shout aloud and praise His God in this way?
 [Rock of our salvation]
You will notice from v1 that God is described as the ROCK of our salvation - the Psalmist is saying that God is solid, reliable, dependable - and that we can build our lives on such a sure foundation. Fastened to the Rock which cannot move –as the verse says in the hymn "Will your anchor hold in the storms of life?  "Yes it will" you can almost hear the Psalmist say.
I'm sure we all have storms and gales in our lives at some stage - experiencing very trying times. And the hurt and the sadness of some of those are not be downplayed or diminished –but our God wants us to be confident about the future –about eternity –that He is the God of our salvation and nothing will ever separate the believer from His love. The believer is firmly anchored to Him.
 [Thanksgiving]
And as the Psalmist ponders on that truth that God is his Rock, with all its attendant blessings, he cannot help but burst out into thanksgiving and praise. "Let us come before Him with Thanksgiving." he says
He is thankful –and what a useful exercise it is for you and me to spend time dwelling on all that we should be thankful to God for:
·       For our salvation, of course, and the glorious future we have
·       For His word the Bible –how we love His word and the Word of the word, ie Jesus
·       For our life –ie for our very being. He created our life and now sustains it. We are told in the Bible [Daniel 5:23] that God holds our breath in His hands. We are here by the will of God which is truly amazing as we ponder that truth.
·       We are surely thankful too for all He gives us –our family/friends/neighbours; for our food/clothing/housing. Every good and perfect gift comes from above, not to be taken for granted.
·       And I'm sure there many other reasons for us to be thankful to God.
[The great God]
What else does the Psalmist tell us about God?
V3 –"the LORD is the great God, the great king above all gods". Did you notice that he didn't say God is a great God, a great King, as if He was just one of many, but He is THE great God and THE  great King –ie there is only one true God and King; there may be many competing gods –which are not gods – but there is no other like Him.
The battles between Israel and the surrounding pagan nations were in reality battles between the gods of those nations and the God of Israel. For example, Egypt venerated many gods: the sun, the Nile River  –and Pharaoh himself was a god. Yet God said that through His tenth plague –the killing of the firstborn –He would bring judgement on all the gods of Egypt.
Yes, God is THE great God, and THE great King above all other gods.
[The LORD our Maker]
What else is true of God that the Psalmist should burst forth into song with thanksgiving and praise?
In vv 4 & 5 you will see that God is the Lord our Maker, indeed He is our Creator.
In his hand are the depths of the earth, and the mountain peaks belong to him.
The sea is his, for he made it and his hands formed the dry land.
This view of God as Creator is repeated in many different ways throughout the Bible. For example:
Ps 33: By the word of the Lord the heavens were made, their starry host by the breath of his mouth. For he spoke, and it came to be; he commanded, and it stood firm.
Do you get the picture of this Almighty God just speaking the creation into being?
Many today are still seeking to know the origins of the heavens and the earth - how they came into being-  and spend billions of dollars looking into that -but the answer is right before them at Gen 1:1 "In the beginning God created the heavens and the earth".
Listen to the staggering words of the writer to the Hebrews at Heb 11 in the NT as the inspired writer describes how God formed the universe from nothing:
Heb 11: By faith we understand that the universe was formed at God's command, so that what is seen [the universe] was not made out of what was visible.
God made the universe from nothing. Can we get our heads around that? Well, as the writer to the Hebrews says: by faith we understand that is true.
In the light of all that is true of God, as the LORD their Maker and Creator, little wonder the Psalmist calls at v6 for the people to bow down in worship and kneel before this creator God who is your God and my God.
"Come let us bow down in worship", says the Psalmist –in humility & reverence - as behoves us who know what an infinite distance there is between us and God.
And when we consider that distance –and the greatness of God and His creation, we might wonder whether this great King who sits above the circle of the earth is mindful of us tiny, tiny, human beings.
That very thought was in the mind of King David when he wrote Psalm 8. Listen to his words, posed as a question to God:
When I consider your heavens, the work of your fingers, the moon and the stars,
    which you have set in place, what is mankind that you are mindful of them,
    human beings that you care for them?
King David raises that question only to answer it positively as he goes on in the Psalm to show that God is mindful of us and does care about us.
Those truths are reinforced in v7 of this Psalm 95:
 V7 "for he is our God and we are the people of his pasture, the flock under his care"
This is nothing less than imagery of a shepherd and his flock.
 -we  –those who hear His voice and believe it - are the people/sheep of His pasture -we belong to the Great Shepherd of the sheep
-and like any Good Shepherd, He takes care of His sheep. He guards them, He keeps them safe, He directs them, He leads them. And one day He will lead His people home.
The LORD is my shepherd – I shall not want – I have everything in Him –He makes me to lie down in green pastures –safe in His pastures, safe in His realm/kingdom.
In summary, the Psalmist is declaring that the LORD is the great God, the Rock of salvation, who alone is worthy of praise and worship and adoration, who is the Maker of everything, who holds the breath of our lives in His hands -and yet who is personal and cares for the people of His pasture.
The Psalmist has heard the voice of this great God, whom he has described in these majestic terms, and has responded to that voice in faith and obedience
And now in vv 7b-11, this second half of the Psalm, he turns with concern for others that if only they would hear the voice of this great God and King they are not to harden their hearts in unbelief, as their ancestors did, who thereby forfeited God's blessing of  not only  being denied ever entering the Land of Canaan but also being denied salvation-rest.
"As their ancestors did" –to show what he meant by that, the Psalmist draws on certain events in the history of the people of Israel as warnings not to repeat their sin of unbelief when hearing the voice of God.
The first historical event concern the Israelites quarrelling over the lack of water in the wilderness and not trusting God in the matter. That is the background to vv 7-9.
Look at the end of v7 and onwards:
 Today, if only you would hear his voice,
"Do not harden your hearts as you did at Meribah, [quarrelling] as you did that day at Massah [[testing] in the wilderness, where your ancestors tested me; they tried me, though they had seen what I did."
The historical event is that Moses was leading the children of Israel through the wilderness on the way to the Promised Land, but the people started to quarrel with Moses, saying they would die of thirst for there was no water. Impliedly, they were not trusting God to provide for their needs. And so they were quarrelling with God and testing Him, which is what the two names of Meribah [quarrelling] and Massah [testing] mean.
Despite their rebellion, God graciously gave them the miracle of water from a rock, having instructed Moses to strike the rock with his rod. Nevertheless, this incident showed the people's lack of trust in God. They had tested Him.
"Do not harden your hearts as you did at Meribah, [quarrelling] as you did that day at Massah [[testing] in the wilderness, This is the lesson: do not harden your hearts as they did
To harden the heart is to reject/disbelieve God's word and there will be a progressive hardening the more often God's voice is rejected –leading to a position where the heart becomes so hard and stubborn that belief may no longer be possible. It is a dangerous situation.
They had hardened their hearts in unbelief despite all that they had seen God do for them. Look again at v9:
where your ancestors tested me; they tried me, though they had seen what I did."
Well, what had God done for them? What had the people seen? Let us remind ourselves.
God had sent 10 miraculous plagues into Egypt, culminating in Pharaoh letting them go after 430 years of slavery, but also had parted the Red Sea for them to flee in safety, and then brought it back again to drown the pursuing Egyptians. During their wilderness wanderings, He had given them manna from heaven, and kept their shoes and clothing from wearing out -and so on.
Staggering - the way God had loved them and kept them in such miraculous and powerful ways. Yet, they were a rebellious, ungrateful, unfaithful, unbelieving people–and not surprisingly God was angry with them.
The next historical event the Psalmist draws on is at vv 10 & 11 and concerns the refusal of the Israelites to go in and take the land of Canaan, the land which God had given to them as He had promised to Abraham. You will remember the story of the 12 spies sent in to spy out the land. What did they see? They saw a land with abundant fruit and vegetables and flowing with milk and honey. Yet 10 brought back a bad report, saying the cities were big and well-fortified, the people were like giants and so it was impossible to go in. Yet God said He had given the land, so go in and take it.
No, they would rather go back to Egypt even though that would mean certain slavery once again. They could not trust that God had the power to overcome the fortified cities and the giant people yet they saw the powerful miracles of the 10 plagues, the parting of the Red Sea, drawing the Sea back, and so on. This is their God who had the power to speak the universe into being. But still they hardened their hearts. Is anything too hard for the LORD?
 Only 2 spies –Joshua and Caleb – had faith to believe God's word -that God would go before them and fight for them to enable them to take the land.
The LORD was angry with the others. Look at v10:
 V10 For forty years I was angry with that generation;
I said, "They are a people whose hearts go astray, and they have not known my ways."
They had gone astray alright. However, they did know God's ways -in that they had been taught them - but they had not known them in the sense that they had not believed them and put them into practice.
In summary, they had not heard God's voice with belief and with an obedient heart.
"Today, if you hear His voice" –that is the point –whose voice were the Israelites listening to? They were listening to their own voice, the voice of human reason, not reckoning with the power of God to do what He said He would do.
God had spoken to the people of Israel through Moses –they had heard the voice of God to take the land -but they had not listened with belief.
God is kind, He is patient, He is longsuffering. He had borne with His people graciously, yet there comes a point when He will not be patient any longer with those who harden their hearts against Him and stubbornly refuse to obey His voice.
The consequence of their unbelief was severe. Look at v11:
So I [God] declared on oath in my anger, "They shall never enter my rest."
In the immediate context in which those words were said, "rest" meant God's promise to settle the people in Canaan, the Promised Land, a land flowing with milk and honey. God was saying they would never enter the physical land of Canaan; that is one thing. However, that was merely an earthly rest – a shadow of the heavenly rest which is to know peace with God as the God of their salvation. The vast majority of the people of Israel at that time did not enter into God's earthly rest –because of unbelief & disobedience –and in consequence never entered into God's true heavenly rest.
The message to the Israelites –and to the people to whom the Psalmist was writing several hundred years' later –is also a message for you and me today in 2021.
It is a contemporary message and that is made clear by the writer of the letter to the Hebrews in the NT at chapters 3 & 4 where he expounds this Ps 95.
In expounding the Psalm the writer of the letter forbids us to confine the thrust of it to Israel.
The "TODAY" of which the writer speaks is this very moment; the YOU is none other than ourselves; the promised rest is not Canaan but salvation. So, the message becomes:
Today if you hear God's voice you are not to reject it in unbelief for there is a still a rest you are to enter into: it is peace with God through Jesus.
Listen to the words of warning at Heb 4: 11 where the writer reflects on Ps 95:
Let us, therefore, make every effort to enter that rest, so that no one will perish by following their example of disobedience, ie Israel's example of disobedience in not believing God that they could go and take the land of Canaan.
As we hear God's voice we are to obey it.
How do we hear God's voice?
You will remember that the writer of the letter to the Hebrews said this: "In former times, God spoke to our ancestors through the prophets [such as Moses] –but now in these last days He has spoken to us through His Son."
And now we are in the last days, and God speaks to us through His Son. The words Jesus speaks are those the Father has given Him, and so as we hear Jesus' voice we the voice of  the Father .
You will recall the Father's words from heaven about His Son:
"This is my beloved son in whom I am well pleased . Hear HIM" [mt 17-5]. We are to hear Him, to listen to Him, for He has the words of eternal life.
So, we can repeat the message in this way: "Today, if you hear Jesus' voice harden not your heart."
How do we hear Jesus' voice?
We hear Jesus' voice as we read the Bible –the living  word  -or as we hear the Bible being read  or preached -or as we read words from it in a Christian tract or on a billboard alongside the motorway. Through the living word of the Bible we can hear the voice of Jesus.
What does the voice of Jesus say to us? Many things but let me recall one for you at Matthew 11:28 where Jesus says this:
  "Come to Me, all you who are weary and burdened, and I will give you rest."
There is that important word again –rest. Jesus is making an amazing promise of salvation-rest through Him. And He can do that because He is our great God and King and Rock of our salvation. Indeed, Ps 95 can be read as a gospel Psalm. Jesus Himself said that all the Scriptures speak of Him, and so we can read the Psalm like this:
Shout aloud to Jesus the Rock of our salvation; He is the great God, the Creator who made all things and without Him nothing was made that was made; He is the great shepherd of the sheep who cares for the sheep of His pasture. He is the great King above all gods.
And when we think of all that which is true of Jesus surely we can believe His words as He lovingly issues His life-transforming invitation to come to Him for rest?
He doesn't point to anyone else because there is no one else –there is no other way.
The plea is this: not to disbelieve Jesus' words, not to harden your heart against His message of kindness and love –but to respond to His invitation with thankfulness and a glad heart.
For that is what it is –an invitation to come –"come to Me with all the burden and heaviness of your sin and I will give you rest from it; I will give you total forgiveness, I will wipe the slate clean, and give you a new heart, a new life, eternal life."
And did you detect the note of urgency? TODAY, if you hear His voice, harden not your heart. We don't know about tomorrow. We cannot presume upon another day. Life is too uncertain.
Behold now is the time of God's favour, now is the day of salvation [2 Cor 6:2]
Augustine of Hippo, a fourth century theologian said: "You have made us for yourself, O Lord, and our heart is restless until it finds its rest in you." [explain]
For those who have trusted and believed, the message is to keep on hearing the voice of Jesus, keep on believing, keep on persevering in the faith, keep on despite all the storms, the blizzards and general challenges of life, to keep on trusting, keep on believing; and let us encourage one another in the faith through fellowship, praying together, reading the Bible together, studying God's word together, in growth groups or in private study, and so on.
God is THE great God and King and He will keep to the end those who are faithful and obedient –and will lead us ultimately to our heavenly rest.
Rest is both now and not yet –it is both present and future. The best is yet to be. We are not yet in possession of all that God has prepared for us. We are not yet in the heavenly city which has foundations whose builder and maker is God. We look forward to it –and certainly it is nearer now than when we first believed.
TODAY if you hear Jesus' voice harden not you heart.           Shall we pray?
Sunday 8th August
Dear all
My sincere apologies. I have been experimenting this summer with how to record quality video for you, and this week managed to fail to connect the microphone properly, so that we got good video but no sound. 
Please bear with me
Ash